In this edition of weird, spammy, and "phishy" text messages, this came up on my wife's phone recently (shown below).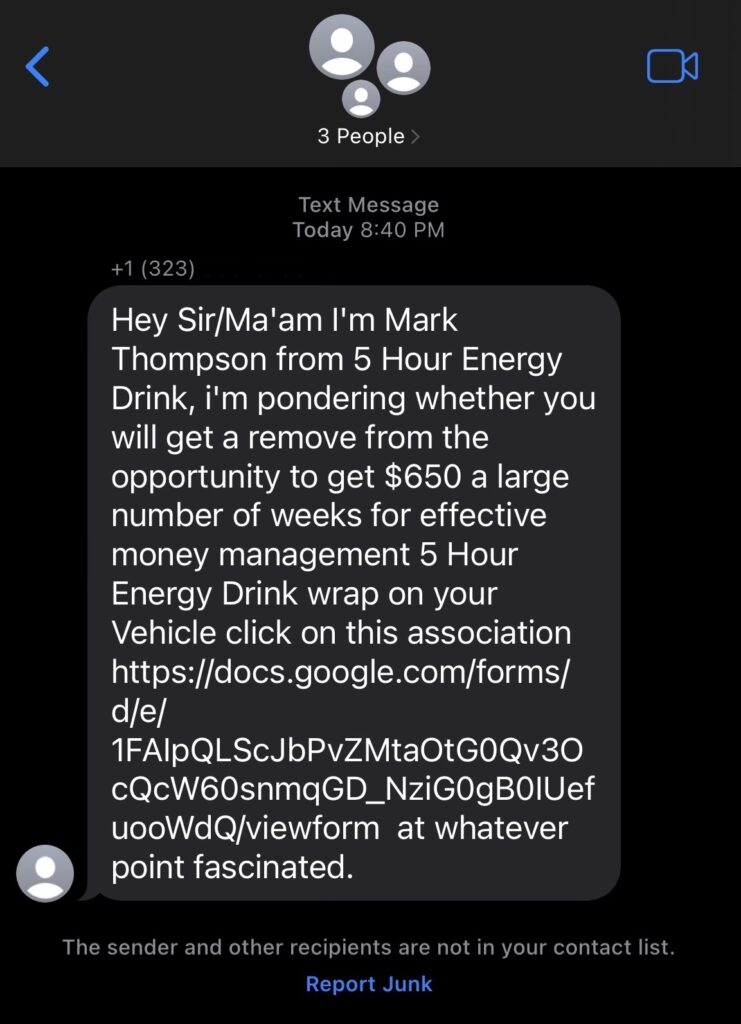 The text message, sent to two other lines as well as my wife's, claims to be from a "Mark Thompson" from 5 Hour Energy. The jumbled grammar and punctuation suggested someone with very limited English skills may have written this, or word suggestions from iOS just went bananas and that the author thought it was good to go.
The sender essentially asks someone to click on the link to a Google Doc if interested in participating.
She sent me the screen grab, reported the text as junk, and I went investigating.
I used a recently-installed version of Parrot OS on a virtual machine (VM) on my Mac mini (details on installing it in this video I made recently). I opened it up, turned on a VPN, an inserted the URL that was in the text message. It was important that I used a VM to isolated whatever I was doing from my main desktop in order to prevent any malware from reaching the device and the rest of the home network.
The URL did link to a Google Form despite my fear of it redirecting to a sketch website.
The form seemed to be a bit more coherent with the writing and explaining on what the promotion entailed.
We are currently seeking to employ individuals Nationwide, Regular citizens, Professional drivers to go about their normal routine as they usually do, only with a big advert for "5-Hour Energy Drink" plastered on your Bike/Car/Truck/Lorry/Cart. The advert are typically vinyl decals that almost seem to be painted on the vehicle, and which will cover any portion of your Bike Car/Truck Boat/Lorry/Cart's exterior surface.

– The text from the alleged 5-Hour Energy campaign Google Form.
Words like "Lorry" and "advert" aren't used much in American English, so it's possible that this was written originally by a foreign entity. And I am not sure what they mean by "Cart." Horse cart? Shopping cart? If that's the case with the latter, could it be extra income for those in a certain American film and TV franchise?
The authors claim compensation of $650 per week with the promise of an "upfront payment inform of check via courier service."
But would a large company such as Innovation Ventures, LLC (dba Living Essentials, LLC), who manufactures 5-Hour Energy, resort to Google Forms for promoting such a program and send the forms via random text messages?
They also asked for the applicant's "Bank Name" as well as the make of the vehicle and year. The applicant's age, address, and phone number were also some of the personal information that was asked.
The required bank name did strike me as odd, but the questionnaire didn't go as far as requesting routing or account numbers.
This form was sent via text message instead of an email. This means that there is no way to backtrack the sender through an email or a domain name. All that's available is a phone number.
A reverse lookup online found that, according to limited information provided by Spokeo, it was a MetroPCS-issued cellular number from Los Angeles. This may sound thrifty, but I didn't want to pay for the information.
This leaves me a bit stuck on identifying the senders of the texts and linked Google Form. A similar but differently-worded scam message was reported within the last few years.
A claim of a $500 payment for wrapping your car in an advertisement for 5-Hour Energy was reported in 2018, according to onlinethreatalerts.com. Another similar scam was reported but using another drink called Bang, according to The Pilot.
The U.S. Federal Trade Commission (FTC) released an alert in 2016 about such scams.
Verdict?
Was this text message and form really from 5-Hour Energy? I would argue that's very likely not given the word salad in the text message, the randomness of the message sent, and the fact that interested parties needed to fill out a form in Google Docs. The fact that there have been reported scams somewhat similar to the received message does raise additional red flags.
What to do?
If you receive a similar message from a random number or email, pay attention to the use (or lack) of grammar, punctuation, and capitalization. Also, if someone is saying they are representing a large company and provide a Google Doc link to sign up, something may not be right. It's best just to play skeptic and report the text as junk or spam. You can copy and forward spam messages to 7726 on your mobile device, according to the FTC.
"[Reporting it] helps your wireless provider spot and block similar messages in the future," the agency wrote.